Infant Swimming Lessons in Newhall
Our infant swim lessons are based upon a gentle and caring approach that focuses on creating fun, positive experiences for babies which will not only help them to develop physically but also emotionally, intellectually and socially while equipping them with key safety skills in the water.
Parent and Baby swim lessons will progress your baby from initial water familiarity through to advanced water safety skills such as floating, kicking, fall into water & resurfacing to the pool edge, holding on and climbing out. These are achieved through games, songs and repetition with a gentle and caring approach where each child is allowed to progress at their own pace.
Infants and children under the age of 4 are most at risk for accidental drowning, and statistics show that participation in formal swimming lessons can reduce the risk of drowning by 88 percent among this age group. Parents should also know that over 72 percent of pool submersion deaths occur at home.
Instructors focus on helping babies kick to the surface, hold their breath, float on their backs and develop a respectful and confident attitude towards the water.
Contact us or register for infant swimming lessons or parent and baby swim lessons today!
Parent & Baby Swimming Lessons
Parent & Baby swim lessons can be taught as a private (one-on-one) swim lesson or gather your friends for a fun group baby swim class (clients must provide their own group) at your home or housing community pool. We have two options for groups, either a Parent & Baby Group lesson (4-8 babies and parents) or a smaller Semi-Private swim lesson (2-3 babies & parents). Please see the pricing page for our updated pricing.

Swimming Skills we Teach to Babies:

- Cue Words to learn to hold their breath
- Submersion after ready
- Assisted/ Unassisted Floating
- Assisted/ Unassisted Kicking
- Assisted/ Unassisted Paddle
- Blowing bubbles
- Assisted "monkey crawl" holding the side of pool wall
- Reach for the side of the pool after submersion
- Fall from pool edge, turn around to grab wall
- Fall from pool edge, turn around and kick/paddle back to wall
- Climbing out of the pool


How long will it take for my baby to learn water safety skills?

Each babies individual progression will depend on factors such as age, comfort level, practice time, etc and there is no "set time frame" that a baby will learn water safety skills. Instructors teach in a gentle manner and focus on your baby not only learning the skills but enjoying the process through fun songs and activities.

We recommend infant/toddlers take 2-3 lessons per week to learn important water safety skills in a quick yet gentle, child-centered manner. Lessons can begin as early as 6 months and it is very important for an infants to learn basic water safety fundamentals (holding breath, kicking, floating, etc.) to build a foundation for them to flip over and float on their back and wait for help or swim to safety as soon as they are developmentally ready.
After they complete their lesson package they can receive their certificate with the skill level they achieved!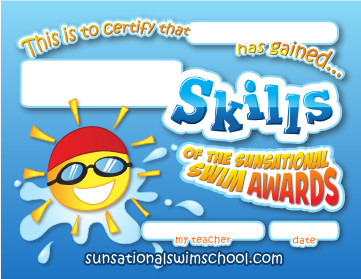 The Importance of Learning Water Safety Skills
Drowning is the second leading cause of accidental death in the U.S. among children under 14 and the leading cause of accidental death for children five and under.
Of all preschoolers who drown, 70% are in the care of one or both parents at the time and 75% are missing from sight for five minutes or less.
Fully 65% of all preschooler drowning incidents occur in the child's home pool and 33% occur at the homes of friends, neighbors or relatives…a child can drown in the time it takes to answer a telephone.
The U.S. Consumer Product Safety Commission (CPSC) warns consumers about hidden drowning hazards for small children in and around the home. Recent data show that a third as many children under age 5 (an average of about 115 annually) drown from other hazards.
Participation in formal swimming lessons can reduce the risk of drowning by 88 percent among children aged one to four years.