Toddler Swimming Lessons in Cedar Park
If you're the proud parent (or grandparent) of a toddler, you know very well how curious they can be, and how quickly they can get themselves into trouble! One of the biggest preventable threats to children ages 1-4 is drowning. Fortunately, research shows that a toddler who participates in swim lessons reduces his risk by 88%. Children of any age can quickly benefit from learning the skills that will keep them safe in and around water, from the bathtub in their home to the community pool.

What makes swim lessons for toddlers different?

At Sunsational Swim School, we create a supportive environment that combines safety skills with swim techniques that are age-appropriate. Young children learn best through play, so our instructors make their lessons challenging and fun through creative games and toys.
Toddlers also need one-on-one instruction to be safe during swimming lessons, which is why our private lessons consist of a class of one: your child! Our instructors progress at the child's pace, focusing on the gradual development of skills reinforced with positive feedback and encouragement. In this manner, your child will learn the safety and swimming skills needed to react appropriately in the event of an emergency while enjoying the experience of being in the water.

Our Toddler swim lessons will progress your tot from initial water familiarity through to advanced water safety skills such as floating, kicking, fall into water & resurfacing to the pool edge, holding on and climbing out. These are achieved through games, songs and repetition with a gentle and caring approach where each child is allowed to progress at their own pace.
Contact us or register for infant swimming lessons or parent and baby swim lessons today!

Parent & Tot Swimming Lessons
Parent & Baby swim lessons can be taught as a private (one-on-one) swim lesson or gather your friends for a fun group baby swim class (clients must provide their own group) at your home or housing community pool. We have two options for groups, either a Parent & Baby Group lesson (4-8 babies and parents) or a smaller Semi-Private swim lesson (2-3 babies & parents). Please see the pricing page for our updated pricing.

Swimming Skills Your infant or toddler will Learn:

- Cue Words to learn to hold their breath
- Submersion after ready
- Assisted/ Unassisted Floating
- Assisted/ Unassisted Kicking
- Assisted/ Unassisted Paddle
- Blowing bubbles
- Assisted "monkey crawl" holding the side of pool wall
- Reach for the side of the pool after submersion
- Fall from pool edge, turn around to grab wall
- Fall from pool edge, turn around and kick/paddle back to wall
- Climbing out of the pool


How long will it take for my baby to learn water safety skills?

Each childs individual progression will depend on factors such as age, comfort level, practice time, etc and there is no "set time frame" that a baby will learn water safety skills. Instructors teach in a gentle manner and focus on your baby not only learning the skills but enjoying the process through fun songs and activities.

We recommend babies take 2-3 lessons per week for at least 4-6 weeks to learn important water safety skills in a quick yet gentle, child-centered manner.
Sunsational Swim Award Certificate
After they complete their lesson package they can receive their certificate with the skill level they achieved!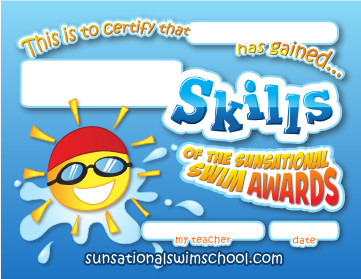 Why Choose Us for Your Toddlers Swim Lessons?

All the Comforts of Home
You don't want to spend hours driving across town for lessons. Our swim instructors come to your house or local pool at your convenience, saving you time and transportation costs.

Scheduling at Your Convenience
Your life is busy, so our swim instruction can take place on the days and times that best fit your calendar. You can even schedule back-to-back lessons for multiple children in your family.

Age-Appropriate & Effective Lessons
Entertaining games and exciting activities are at the heart of Sunsational Swim Lessons, making the process of learning to swim as enjoyable as possible for learners of all ages. Each student receives a Sunsational Skill Chart and Certificate, which tracks their progress through the lessons and recognizes their accomplishments.

Qualified Instructors
Every teacher must undergo a detailed qualification and screening process before working for us. Our instructors all have experience working with children, CPR/First Aid/Water Safety Instruction certifications, and a clear background check.

100% Satisfaction Guaranteed
If you're not completely satisfied after the first lesson, we offer a full 100% money-back guarantee and will either refund your entire lesson purchase or re-start your lesson package with another instructor!

Water Safety Focused
Knowing how to get to the side of a pool, hold on to a floating object, or swim is the number one way to prevent the main cause of accidental death for children under the age of 5: drowning. For this reason, toddler swim lessons with Sunsational Swim incorporate those critical safety skills from the very beginning.