Special Needs Swimming Lessons
Drowning is the leading cause of death for children and adults with autism. But it doesn't have to be that way. At Sunsational Swim School, we are dedicated to working with children diagnosed with Autism Spectrum Disorder (ASD) to help them learn the skills they'll need throughout life to stay safe near water and embrace the wonders swimming has to offer.
Instructors are trained to work with each child individually in order to key in on their interests, challenges and fears. Visual supports, such as skill cards, help autistic children process information and understand what they are asked to do. In addition, instructors understand the need for patience, exaggerated facial expressions and the need to provide examples to help children learn.
Every child with Autism Spectrum Disorder is different, and our swim school instructors understand that. In addition, they are clued into how to use child-centered teaching tactics in instruction and to be flexible during the lesson in order to meet the needs of the child.
Contact us or register online for swimming lessons today!
Purchase 12 or more lessons and receive the following:
Sunsational Swim Skills Chart
Children will receive a "sticker poster" to track their progress through the Sunsational Swim Skills.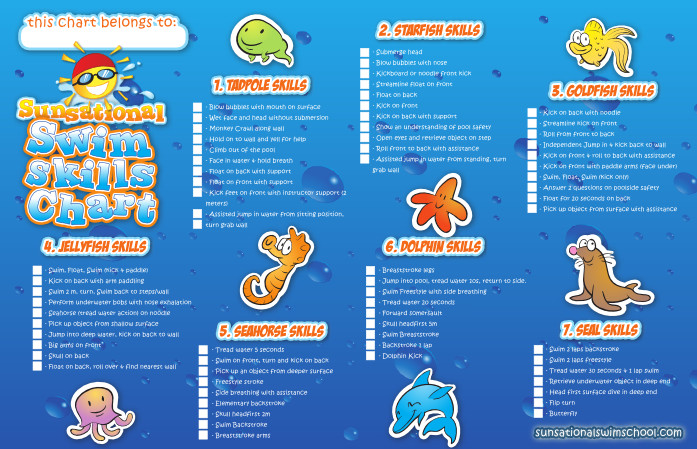 Sunsational Swim Award Certificate

After they complete their lesson package they can receive their certificate with the skill level they achieved!