Special Needs Swimming Lessons
When you're raising a child with special needs, learning to swim represents yet another challenge, but one that must be overcome. That's why at Sunsational Swim School we're proud to offer special needs swim instructors and special needs swim lessons. We hope that with our help our students can move past their personal obstacles to learn to swim, improve their confidence, better their fitness, and learn more about water safety.

All Autistic Children Should Learn To Swim

Children with autism are often drawn to the water, and rates of drowning are very high. In fact 91% of all wandering deaths for autistic children are because of drowning. We want to change that with our swim lessons for autistic children.
Autistic children see, feel and understand things in a different way, which makes teaching them to swim an entirely new challenge. However, our autism swimming instructors have experience with kids on the spectrum, and understand the best techniques to help your child learn to swim and be safe around the water. Of course every child with autism is different, but our instructors have a wide range of experience, and know how to use child-centered methods and flexible teaching to make the special needs swimming lessons work for you. Our talented special needs swim instructors can even provide visual supports, like visual skill cards, to help children on the spectrum to process and understand the swim skills before they practice them.

Water Can be Therapeutic for Special Needs Children

For many children with special needs, autism or otherwise, swimming can be a very therapeutic pastime. For autistic children water can be calming on sensory overloads, and in children with physical disabilities the water provides a weightless environment that is often very freeing. Special needs swim lessons unlock the benefits and enjoyment of water for those children, giving them a new lease on life.

We love bringing swimming to the lives of children with special needs, and Sunsational Swim School is always accepting grants from third party organizations to support the continuation of swim lessons for special needs students.


Our Private Swim Lessons Cater to Many Special Needs...
Autism, Asperger's or related syndromes
Cerebral Palsy
Down Syndrome
Sensory Integration Disorder
Sensory challenges
Physical Difficulties
And Many Others

Instructors are trained to work with each child individually in order to key in on their interests, challenges and fears. Visual supports, such as visual skill cards, help autistic children process information and understand what they are asked to do. In addition, instructors understand the need for patience, exaggerated facial expressions and the need to provide examples to help children learn.
Every child with Autism Spectrum Disorder is different, and our swim school instructors understand that. In addition, they are clued into how to use child-centered teaching tactics in instruction and to be flexible during the lesson in order to meet the needs of the child.
Our #1 Priority: Water Safety for Your Child
In our program, children learn to swim in a safe and positive environment. Making safety a priority, our instructors teach young swimmers how to swim back to the wall after an accidental fall in the water, how to pull themselves out of the water and how to master breathing, paddling and kicking in order to swim to safety. These life saving skills are very important to learn at a young age because drowning is the second leading cause of death in children ages 1-14 and most of these drownings occur in a pool.
A Gentle and Step-by-Step Method
Our progressive step-by-step method makes learning easy and fun, and fear tactics or force are never a part of our curriculum. Private lessons ensure that children progress at their own pace, and move on only after they're ready for a bigger challenge. The ability to personalize lessons gives our instructors the chance to help your child develop skills, as well as conquer fear or self-doubt.
Convenient Scheduling – We Come to You!
Remember, because our instructors will come to you, and work around your schedule, our lessons are convenient, and offer busy families the flexibility they need to make the most of swim time.
Highly Experienced Instructors
Our swim instructors come to you highly trained and experienced, with a background that includes a minimum of two years teaching experience. In addition, they are Red Cross Lifeguard and/or Water Safety Instructor certified, CPR/First Aid trained and have a passion for working with children. With Sunsational Swim, you know your child is in the hands of a dedicated teacher and instructor. In addition, all of our instructors are background checked.
As lessons are private or semi-private we do not have "levels" but instead a skill progression chart that allows children to develop swim and water safety skills at their own pace and in a progressive manner.



Swimming Skills Children will Learn in a Progressive, Step-by-Step Order:


1. Tadpole Skills



- Monkey Crawl along wall
- Climb out of the pool
- Face in water & hold breath
- Float on front & back with support
- Kick feet on front with instructor support
- Assisted jump in water from sitting position, turn grab wall

2. Starfish Skills



- Front float & kick
- Float on back
- Kick on back with support
- Roll front to back with assistance
- Jump into water (or instructor drop) from standing, turn grab wall

3. Goldfish Skills



- Kick on back
- Roll from front to back
- Independent Jump in & swim back to wall
- Kick on front & roll to back with assistance
- Kick on front with paddle arms (face under)
- Swim, Float, Swim (kick only) or pop up breath

4. Jellyfish Skills



- Swim, Float, Swim (kick & paddle) and/or pop up breath
- Kick on back with arm paddling
- Basic treading water
- Jump into deep water, kick on back to wall
- Big arms (freestyle) on front
- Skull on back
- Float on back, roll over & find nearest wall

5. Seahorse Skills



- Tread water
- Swim on front, turn and kick on back
- Freestyle stroke
- Side breathing with assistance
- Elementary backstroke
- Swim Backstroke
- Breaststroke arms

6. Dolphin Skills



- Breaststroke legs
- Swim Freestyle with side breathing
- Tread water 20 seconds
- Forward somersault
- Swim Breaststroke
- Backstroke
- Dolphin Kick

7. Seal Skills



- Head first surface dive in deep end
- Flip turn
- Butterfly
- Refine swim strokes

Parent's will also receive a copy of our swim skills chart and certificate to provide to their children during the lessons
Sunsational Swim Skills Chart
Children will receive a "sticker poster" to track their progress through the Sunsational Swim Skills.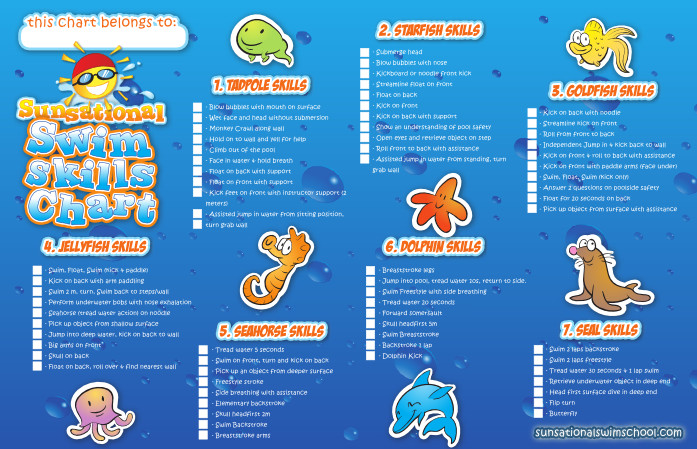 Sunsational Swim Award Certificate

After they complete their lesson package they can receive their certificate with the skill level they achieved!