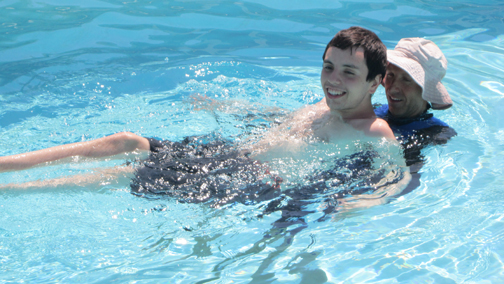 Any child gets a feeling of empowerment from being a competent swimmer, and in that regard, children with mental and physical disabilities are no different from other kids. However, they may require special techniques and devices that help them function effectively in the water. Adaptive swimming lessons have become increasingly commonplace, and most swim instructors now have the knowledge and ability to work with children who have various levels and types of disability.
How Do Kids With Special Needs Benefit from Swimming Lessons?
Many kids who have physical, mental, or cognitive issues can still learn how to float, control their breathing, paddle, kick, jump in the water, perform various strokes, and even dive. Activities in the pool can improve basic coordination, range of movement and strength. Private lessons may be the best method, particularly with children along the autism spectrum who can't handle excessive stimuli, but for many children a group setting also contributes to an improvement in speech, language, and social behavior.
What About Adaptive Gear?
Many facilities don't allow flotation devices, in the belief that it creates a false sense of security due to a misguided belief that a child wearing such a device is protected from drowning. However, in the context of lessons most instructors will do whatever's needed to help your child function in the water, and if this means a flotation device to help your child assume the proper position for swimming, it will likely be permitted. Look for personal flotation devices that are approved by the U.S. Coast Guard. Remember, though, that no flotation device is a guarantee against drowning. Whether your child is using a flotation device or not, the person supervising the child (whether it's you or a swim instructor) should never look away.
Make sure the device fits properly. Consider the child's range of movement, level of strength, and body type. Remember that too much flotation can make it hard to move, and can even have an adverse effect on the child's self-esteem – no one likes to feel as though they have no independence. Of course the corollary to this is that often a flotation device is the very thing that permits a greater level of independence – for example, children who have limited head mobility would need to be held in the water in the absence of a flotation device. Once a child reaches a certain age, that can be humiliating.
Get Help From the Experts
Many physical therapists and occupational therapists have experience in rehabilitative aquatics. They can recommend the best flotation device for your child, and can also point you in the direction of swimming instructors who have experience in adaptive aquatics.
Summary
Kids who have special needs can feel very at home in the water, but may need some assistance in the form of instruction and adaptive devices in order to achieve their full potential. The benefits of aquatic therapy can go beyond the merely physical, allowing the child with special needs to build confidence and stronger social skills.
Find a private Sunsational swimming instuctor for swimming lessons today!
Call Us at
1-888-788-2140

to book your

Swimming Lessons

Today
Popular
Swim Lesson

Locations