Best Swimming Goggles for Adults: Types, Cost, Pros & Cons
Welcome to the wonderful world of swimming! Some days you will find peace others you will find it an uphill battle against your will. Everyday you will find a new level of satisfaction that no matter your odds YOU DID IT!
As a beginner to swimming it may feel every day in the pool is a challenge, but I promise that with practice you will make progress each and every day.
The tools you use will help you excel so let's chat about goggles. Particularly which ones are best for you as you begin your swimming journey.
What are goggles?
Simply put they are plastic pieces that cover your eyes and sometimes also your nose. Wearing goggles is fairly commonplace. They keep the water out of your eyes which is helpful when swimming in the ocean and heavily chlorinated pools.
However, not all goggles are created equal! Today I will share with you the different types of goggles, when to use them and what is best for your goals. Picking your new best friend in the pool can be difficult, so I'll share with you my favorites to make it easier for you to choose your first pair.
4 Main Types of Swim Goggles for Adults
Recreational Swim Goggles:
This type of goggles lends itself to a more comfortable feel. The pieces which cover your eyes are large and feel less crowding around your eyes. More notably, the nose piece is a solid piece that connects the eye pieces.
This is key because it means the goggles will be still flexible, however the width of the nose piece cannot be changed. Meaning if your nose is wider or more narrow that the average person, these goggles may not be a good fit for you.
The straps are usually good on these goggles, though they may not tighten to exactly where you want them to.
Pros:
Great starting pair of goggles
Comfortable
Cons:
Non-adjustable nose piece
Straps may not tighten to ideal position
Overall:
A great pair of comfortable goggles for beginners with a low cost of investment
Recommended Recreational Goggles:
Speedo Hydrospex Classic Goggle
Aqua Sphere Kayenne Lady Goggle
Competitive Goggles:
You will notice a few immediate differences in this style from the leisure style of goggles. The lenses and eye pieces are much smaller. This allows the goggles to suction closer to the eye and prevent leaks.
You will also notice a difference in the nose-piece. Goggles for a competitive swimmer will come with 2-4 additional nose-pieces that can be swapped out. So this means that no matter the width of your nose you can adjust the nose piece for the perfect fit.
Next look at the straps. The straps of this style of goggle are made from a narrow silicon that is secured by weaving through a small piece of plastic. I love this feature because when you adjust your goggles to the right size, the straps won't slip leading to leaking goggles.
The straps also fully separate unlike the previous style allowing you to place them anywhere on your head. Long hair swimmers, this is great for you because you can pull one strap over your bun and one strap under.
You will also notice these goggles are a wider selection of lens colors. Choose a lighter or clear color for an indoor pool with anti fog coating. You may like tinted lenses and uv protection for outdoor and open water swimming as well.
When open water swimming, I still prefer a medium tint, the dark is just too dark for me. That part is all personal preference.
My absolute favorite is the Speedo Vanquisher 2.0. I have tried the same style from other brands and just didn't love them as much as the Speedos.
Competitive Goggles:
Pros:
Adjustable nose piece
Stable straps
Greater suction, less leaks
Cons:
May be uncomfortable at first
Swedish goggles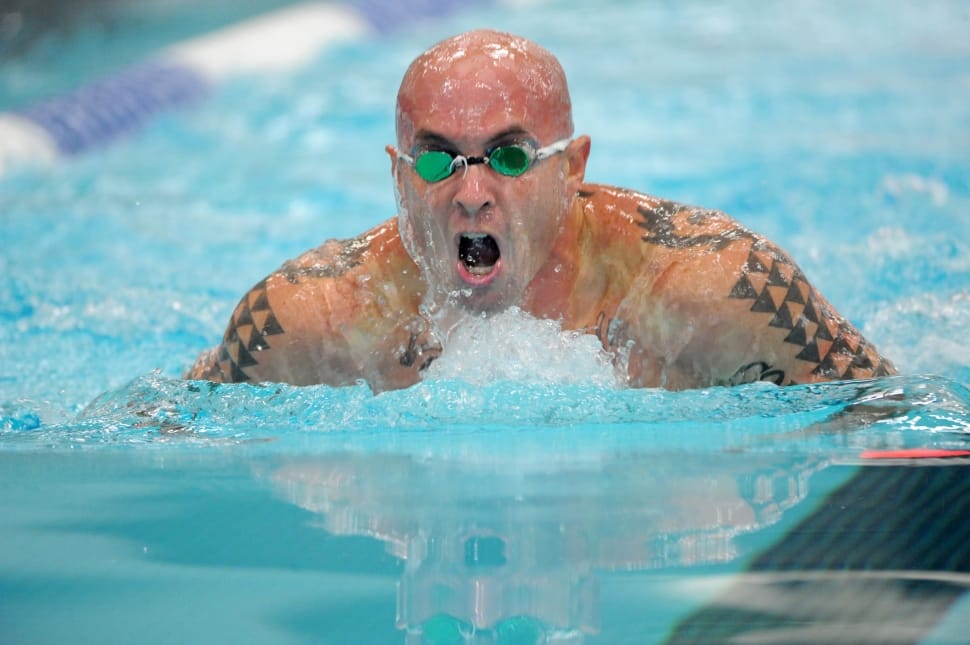 Wearing Swedish swim goggles is taking your swimming game to the next level, so to say. Unlike others, particularly the Vanquishers, Swedish goggles do not have any soft padding around the eyes. Or anywhere for that matter.
The entire eyepiece is one hard plastic goggle. The frame sits directly on your face to create the seal.
These are the smallest types of goggles and very streamlined. They are also very affordable. I bought a pair for $3, I don't think they were name brand.
The catch… you have to assemble them. These are the goggles of Ikea. You will need to thread in the straps and you also have to assemble the nose-piece. I recommend a YouTube video for this. However, once set to the perfect size, these goggles can actually be quite comfortable, provide good visibility, and may be the last pair you wear.
I would not recommend these as a beginner mainly because of the assembly required and while very effective they are not a most comfortable pair to choose as your first pair.
Pros:
Affordable
Lightweight
Great visibility
Cons:
Painful if you were to get kicked in the face during an open water race
May leak if not work properly
Assembly required
Swimming Masks
Our last pair for today is the mask. Although, I do not recommend these for beginners, more on that in a minute.
A quick highlight, masks are goggles that cover your eyes and nose. You can find masks like goggles that do not cover your nose, I still do not recommend those.
The straps are large and not as adjustable to your perfect needs.
Masks are large, clunky and heavy. It may seem that covering your nose will make breathing easier, please please please…learn to breathe correctly from the beginning.
Masks
Pros:
Great for snorkeling and scuba diving
Cons:
Make breathing harder
Heavy
Clunky
Affect breathing technique
Recommended Swim Mask (without nose covering)
Aqua Sphere Swim Mask
For beginners I recommend choosing either a recreational style or competitive training style. I personally LOVE the Speedo Vanquishers.
Avoid Diving Masks
I strongly recommend wearing goggles with no nose covering piece. Let's talk about why.
When you cover your nose you breath in and out through your mouth. I know this sounds simple, but hear me out. When you turn your face out of the water you have to breathe out you air AND also breathe in and it all has to happen in 3 seconds.
If you have mastered the skill of breathing out while you swim this will be less or maybe none of an issue for you. However, new swimmers often hold their breath in between breaths as first.
If you are swimming for the journey, it is best to start with great habits from the beginning. That means 1) breathing through your mouth and nose or 2) holding air in your nose while only breathing in and out from your nose.
If you begin swimming with a mask, it will be harder to switch to different style of goggle later. Then you'll have this large piece of equipment when you could have a much smaller, more streamlined option (the Vanquishers :D )
If you absolutely need to cover your nose, then start with a mask. However, try to work your way up to a training pair as soon as you can.
If you are struggling, hire a swimming coach. They will help teach you simple ways to master swimming and breathing that you can carry with you every lap (or mile) of the water.
To End:
Find a pair that fits you and your goals. If you goal is to swim a few laps a week, consider a leisure style. If your goal is to work your way up to competitions or triathlons, put a competitive pair from the beginning.
Quality is important, you don't want to be fiddling, fixing straps and dealing with leaking water.
Need help to improve your stroke technique or learn new swimming skills? At Sunsational Swim School we have experienced swimming coaches that travel to your home or community pool!


Amanda Girton's bio:
Swim instructor in Tampa, FL
Hi! I'm Amanda. I've been teaching swim lessons for over 7 years now. I teach infants and up, including adults who are experienced triathletes. I have experience teaching children with a wide variety of experiences. It brings me so much joy to see my students accomplish their swim goals.
Call Us at
1-888-788-2140

to book your

Swimming Lessons

Today
Popular
Swim Lesson

Locations